April 23rd until October 30th 2022
Het Eemklooster, Daam Fockemalaan 22, 3818 KG Amersfoort
www.eemklooster.nl – www.pubart.nl
Thea van Vliet is present on August 20th, from 11 am until 6 pm.
Read the press release and see the flyer.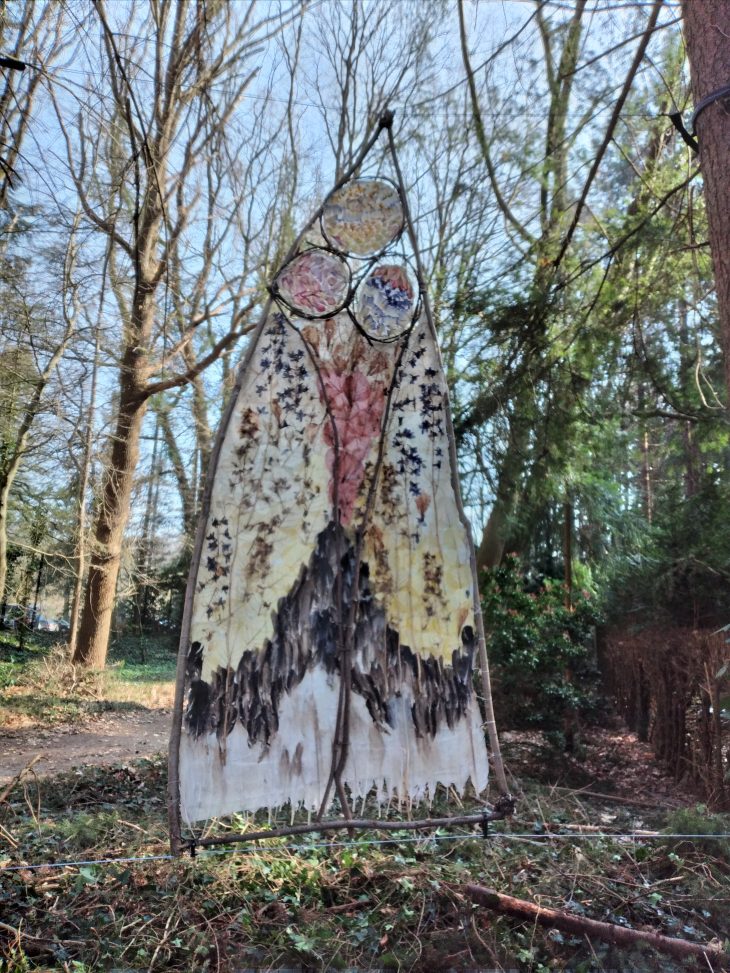 Chapel
Nature is sacred for me, a revered space for rest, reflection and inspiration. It is a prerequisite for life.
I made the installation with natural materials (wax, feathers, flowers, sticks, leaves and cheese towel), which makes it an ode to nature.
Most of the flowers used in the installation were mourning bouquets.
By hanging these Gothic windows and the rose window, a space is created that is reminiscent of a chapel.
The location of my chapel was deliberately chosen close to the small cemetery, where commemoration is central.
Reaction
On the very last day of "Stille Omgang" in Amersfoort, I looked at your creations with a dear friend.
Really beautiful.
Especially in "the chapel"  I would have liked to stay for a long time
and look
and feel
It is not often that I find something that is added to nature by man beautiful, let alone added value.
This time I did experience it that way
An hour later I was already participating in the pollution and rushing on the road.
What you made and shared there, for those who wanted it, however, stayed with me strongly. even now..
Thanks for that.
A visitor